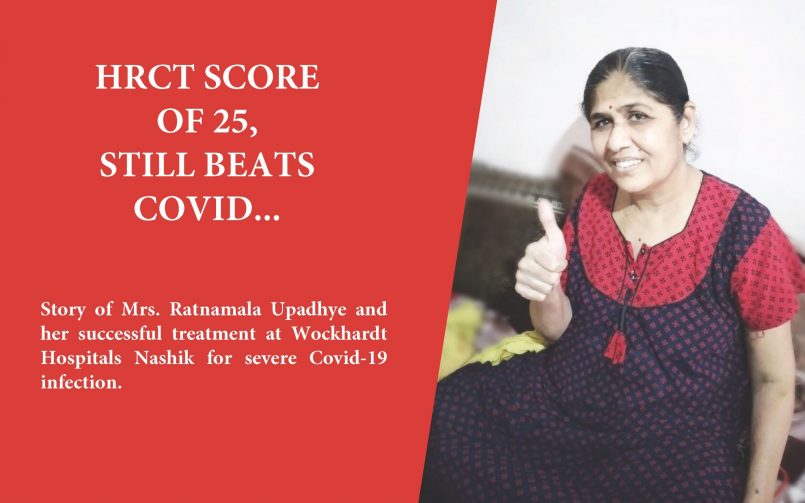 On April 19, 2021, when the single day count of Covid patients in Nashik District reached to a high of 6800 and there was a shortage of Covid beds everywhere, 55 year old Mrs. Ratmala Upadhyay got admitted to a hospital in Satpur area of ​​the city, her score of HRCT scan was 2. She was treated there for 8 days but her condition showed no sign of any improvement, as a result of which on April 27 her family decided to admit her to a higher centre. They had heard of Wockhardt Hospitals, which is well-known for treating critically ill patients, so family members brought her to Wockhardt Hospitals. Doctors were wondering how to admit a new patient for treatment when there was not even a single bed available.
When Mrs. Ratmala came to Wockhardt Hospital, her condition was very bad, she was bothered by constant coughing, she had difficulty in breathing, her blood pressure was high, her blood oxygen level was 88%, she needed 15 liters of oxygen a day and her situation so deteriorated that she would have collapsed anytime; Renowned Physician Dr. Rahul Baste said who treated her. She was urgently needed to be admitted to the Covid ICU but with no beds available, the big challenge for the hospital administration was how to treat this patient. As it was important to save her life, the Medical Administration Department under the guidance of Dr. Nilesh Gumardar made their best efforts to make a bed available for Mrs. Ratnamala, and somehow she was admitted. Dr. Rahul Baste goes on to say; Preliminary tests revealed that her HRCT score was 25, which means that 100% of her lungs were infected with the virus. It was difficult for her to maintain blood oxygen levels, so she was immediately placed on a non-invasive ventilator and given supportive medication so that her blood oxygen level to rise. She was also given plasma and immunoglobulin therapy, he said.
Critical Care Team's efforts were successful and Mrs. Ratnamala responded well to the treatment, as a result of which her cough subsided, she started breathing properly, her oxygen level rose to 98% and she also started taking her meals properly. Her condition improved significantly and she was happily discharged from the hospital. About this great feat, Mrs. Ratnamala's family thanked Dr. Rahul Baste, Medical Administration, Intensivist Doctor in ICU, Nurses, Technicians, and Housekeeping staff.
Humanity is alive!
Despite the shortage of oxygen supply and the unavailability of beds, Wockhardt Hospitals admitted my mother for her serious health condition. Proper treatment at the right time saved her life and today my mother is going home happy. At Wockhardt, we got adoring help that was not expected anywhere else. On behalf of our entire family, I sincerely thank all the doctors and staff here.
– Amol Upadhye (Son of Mrs. Ratnamala)
Best quality healthcare, always…
Wockhardt Hospitals, which has been providing quality healthcare to patients in North Maharashtra for more than a decade, has saved many lives. With the help of experienced specialist doctors, well-equipped ICU, Operation Theater, experienced nurses, and paramedical staff, it has earned a reputation among the patients as the Best Multispecialty Hospital in North Maharashtra. Even during the pandemic, the intense work of maintaining this quality of healthcare is being carried out continuously by giving proper treatment to the patients and making them free from Covid. For this achievement, I would like to thank Dr. Rakesh Borse, Dr. Priyanvada Malpani, and Dr. Prashant Ubhale in the critical care team for their efforts. With this Wockhardt Hospital Nashik always strives to provide immediate and appropriate treatment to every patient who reaches the hospital in critical condition.
– Dr. Sandeep Patel (Head of Center – Wockhardt Hospital Nashik)