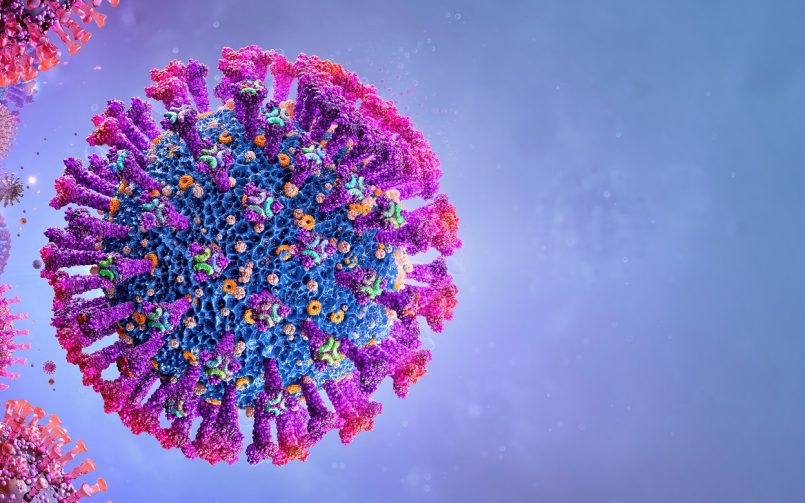 Two variants of the coronavirus disease have recently come into focus as cases emerge around the world and in India. Mumbai-based experts unpack how these new 'variants of interest' differ from previously-known variants
Eleven cases of the Kappa variant of Covid-19 have been detected in Rajasthan, said State Health Minister Raghu Sharma on Tuesday. Addressing a press briefing last week, Dr. VK Paul, Member-Health, NITI Aayog had said that the Kappa variant of Covid-19 is a "variant of interest" and it is not a new variant as cases have been reported in the country before.
Dr. Paul added, "Lambda variant of coronavirus is a variant of interest. We should be watchful of such variants. As of now, there is no evidence that this variant has been identified in India," Dr. VK Paul, Member-Health, NITI Aayog said at a weekly press conference. On June 14, the World Health Organization designated the Lambda variant, previously known by its formal scientific name C.37, as the seventh and newest "variant of interest".
What are the Kappa and Lambda variants?
The Kappa variant also known as B.1.167.1 was first identified in India in December 2020. It is genetically close to the delta variant in the SARS-CoV-2 phylogenetic tree, explains Dr. Lancelot Pinto, Consultant Pulmonologist at P.D Hinduja Hospital & MRC.
The Kappa variant of coronavirus has been there for a longer time. But, it was recently identified by the World Health Organization (WHO). It is a double mutant strain of coronavirus that is made up of two viral types that are E484Q mutation and L452R mutation. The E484Q mutation is identical to the E484K mutation identified in the variants of concern that had originated in Brazil and South Africa. Meanwhile, the L452R mutation originated in California and evades one's immune system's natural defense. The WHO has termed Kappa as a "variant of interest". According to various studies, this variant lowers the effectiveness for both vaccines and immunity generated via natural infections. It may also lead to varied symptoms such as rashes, high fever, runny nose, and watery eyes, adds Dr. Bipin Jibhkate, Consultant critical care medicine, and ICU director Wockhardt Hospital.
The WHO also termed the Lambda variant as a "variant of interest". Originated in Peru, this variant has been detected in more than 30 countries and is predominately noticed in South America. The cases of this new variant have not been seen in India. As the Lambda variant has been recently detected, there is no evidence about its severity or how it responds to treatments.
Are they different from the Delta and Delta Plus variants?
Dr. Jibhkate explains, the Delta variant is of major concern and a highly contagious (possibly more severe) SARS-CoV-2 virus strain, which was first identified in India in December. Delta is the name for the B.1.617.2 mutant. It is soon becoming the dominant strain of the virus in India and Great Britain.
The Delta Plus variant is the subdivision of the Delta variant that has been found in India. It was first seen in Maharashtra and was a culprit behind a large number of Covid-19 infections. This variant can cause symptoms such as stomach aches, nausea, appetite loss, and vomiting. Severe complications include joint pain and hearing impairment.
The new variants, namely Kappa and Lambda, are different from the Delta and Delta Plus variants and it still needs to be seen if they are more severe than the other strains.
Should they be considered causes of concern?
The Delta Plus variant has increased transmissibility, stronger binding to receptors of lung cells, potential reduction in monoclonal antibody response, is highly infectious, and causes more hospitalizations when compared to previous strains. There is no knowledge about the impact of Kappa and Lambda yet.
However, Dr. VK Paul in his press conference said that the Kappa variant is "much less in its intensity".
How are the variants named?
At the time the WHO decided to use non-stigmatizing, simple-to-use Greek alphabets as names for variants, explains Dr Pinto. There were four recognised variants of concern and based on when they were reported, these were chronologically named Alpha, Beta, Gamma and Delta (earlier called Kent, South African, Brazilian, and Indian variants, respectively). The circulating variants of interest were named Epsilon, Zeta, Eta, Theta, Iota, and Kappa, while Lambda is the newest addition to this list.
What is the primary course of treatment?
Dr. Pinto says the course of treatment may differ only if the existing antibody cocktails are found to be ineffective against the newer variants. The Bamlanivimab/Etesevimab antibody cocktail was found to be ineffective against newer variants, and that might be the case with other antibody cocktails (such as Regen CoV, used in India) with newer variants. Apart from this, there is no reason to believe that other drugs used in Covid-19 will not work on newer variants.
Dr Jibhkate adds the course of treatment is decided by the doctor depending on the condition of the Covid-19 patient. Hence, it is essential to seek timely treatment.
Are the vaccines effective against the new variants?
Dr Pinto says, vaccine-induced immunity is not only antibody-dependent but involves cell-mediated immunity too. This is why, despite the Delta variant needing higher antibody titres for neutralisation in the laboratory, it does appear that protection was offered against hospitalization and death. One hopes that this might be the case for newer variants too.
Source: https://www.mid-day.com/lifestyle/health-&-fitness/article/imposter-syndrome-why-some-of-us-feel-like-frauds-and-how-to-overcome-it–23183171?infinite-scroll=1