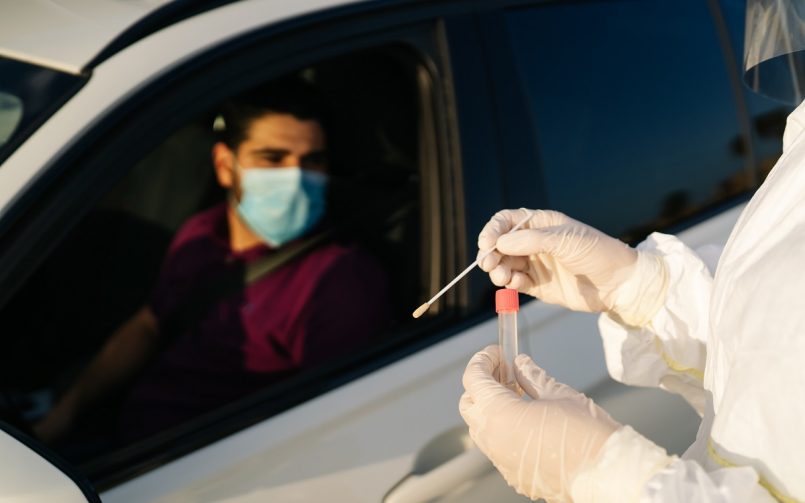 BMC is setting up Rapid Antigen Test desks in crowded places like malls, stations, amid threat of a third wave
Be ready to be randomly tested at crowded public places. With the test positivity rate (TPR) hovering around 1 percent and amid the looming threat of the third Covid-19 wave, the BMC has planned to set up Rapid Antigen Test (RAT) desks in places like malls, railway stations, etc. BMC Additional Commissioner Suresh Kakani said, "The idea is to detect the asymptomatic patients at the early stage. It may also help us understand the pattern of infection spread."
Kakani said that all the 24 ward offices have been directed to identify the spots in their wards where the RAT desk can be set up. "Our present focus is to conduct as many tests as we can. We will monitor the number of tests done ward-wise and the number of cases detected," he added. Presently, the number of tests done daily in the city is between 35,000- 50,000, and the TPR was 1.20 percent on Sunday and 0.91 percent on Monday. Health experts, who had been suggesting more tests in Mumbai, have welcomed the BMC's decision.
"It is a welcome move, but we need more RT-PCR to be done as RAT has only 30 percent sensitivity. We should be doing more than 80,000 tests a day. It is the right time to ramp up our screening test to combat the third wave. We need to do more tests, trace people and start treatment at the earliest. We also need to do more genome sequencing," said Dr. Kedar Toraskar, critical care specialist, Wockhardt Hospital and member of the state task force. With the festive season beginning in the city, the BMC has also urged people to follow Covid-appropriate behavior and get tested immediately if they have any symptoms.
It will help us identify asymptomatic patients and understand the disease pattern. With the festive season almost here, people should also be cautious, avoid crowded places, and get vaccinated. People should follow Covid-appropriate behavior and get tested if they have symptoms. The onus to fight Covid-19 is on us, the citizens, as much as it is on the government.
BMC has added 266 centres across the city for people to walk in and get Covid tests done. Kakani said for random testing, the place to set up RAT desks will be decided by the ward officer or medical officer concerned of the ward.  "It will be in places like sabzi mandis, railway stations, fish markets, etc where RAT desks will be set up. We have also decided to test high-risk and close relatives of positive patients on Day 1 instead of day 5-7. The occupants of sealed buildings will also have to undergo RT-PCR tests," said Kakani.
Source: https://www.mid-day.com/mumbai/mumbai-news/article/out-in-public-get-ready-to-be-tested-randomly-23191584