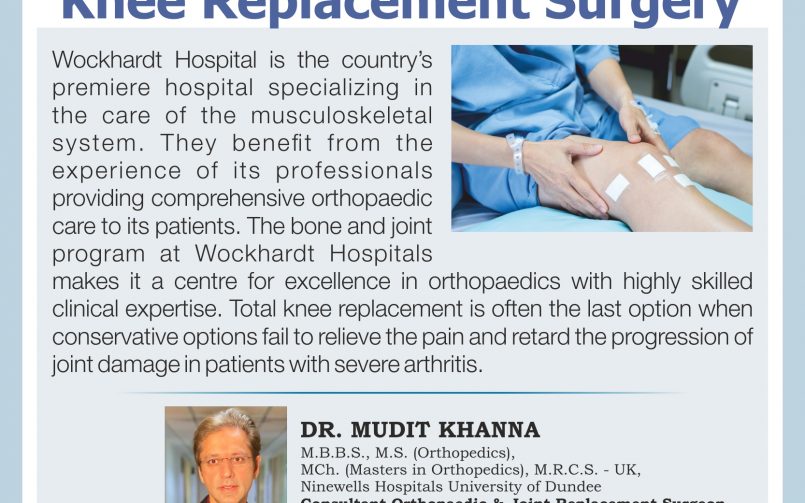 Wockhardt Hospital is the country's premier hospital specializing in the care of the musculoskeletal system. They benefit from the experience of its professionals providing comprehensive orthopedic care to its patients. The bone and joint program at Wockhardt Hospitals make it a center for excellence in orthopedics with highly skilled clinical expertise.
Total knee replacement is often the last option when conservative options fail to relieve the pain and retard the progression of joint damage in patients with severe arthritis.
Conventional Knee replacement surgery involves replacing the damaged cartilage and bone from the surface of the knee joint with a synthetic implant.
Nowadays the new technique called Customised Knee Replacement Surgery has brought in more patient satisfaction and better results for patients.
How is the procedure different?
A custom knee replacement is the novel technology in total knee replacement that uses an MRI scan of the knee to model your knee and then make custom designed cutting guides.
T e procedure begins before knee replacement surgery with an MRI scan and X-rays to make exact measurements of your knee. Computer software transforms that MRI image into a 3-D model of your arthritic knee and then virtually rectifies any deformity so as to restore the knee to its pre-arthritic condition.
Specially designed cutting guides are then made, which allows the surgeon to preserve more of the bone and ligaments to accept the knee replacement implant during the surgery, providing better accuracy and fit of the implant.
What are the Benefits of a custom knee replacement?
Minimally invasive technique
Minimal blood loss for patient
Quicker recovery
Precision fit and knee alignment more accurate
Shorter operative time
Less chance of infection
Durability
Less postoperative pain
Greater range of motion
Quicker return to normal activities
Who is eligible for procedure?
You are not a candidate for custom knee replacement if you have had previous corrective knee surgery or injured ligaments. Patients with knee implants, pacemakers, or vascular clips who are not eligible for an MRI scan are not eligible for a custom knee replacement.
To know and understand the procedure and benefits please contact our centers at Wockhardt Hospital.
The department of Bone and Joint at Wockhardt Hospital provides a continuum of treatment and care with an integrated system of orthopedic surgeons, supported by cutting edge technology and world-class infrastructure.
Our goal is to treat patients right from everyday aches and strains, sports injuries, trauma management to major joint replacement injuries. Our department provides a comprehensive state of the art approach to the prevention, assessment, and treatment, and rehabilitation of musculoskeletal conditions.
Wockhardt Hospitals is regarded as a center of excellence in the healthcare domain, having facilities in North Mumbai (Mira road), South Mumbai (Mumbai Central), Navi Mumbai (Vashi), Nagpur, Nasik, and Rajkot. Our prime objective is patient safety and quality of care at all levels. The guiding philosophy is to serve and enrich the Quality of Life of patients and to make life win.