BACK PAIN AND SPINAL INSTABILITY
INTRODUCTION
I see at least 2/3 patients every month with chronic recurrent back pain having spinal instability. It can be associated with substantial disability.
The primary forms of degenerative lumbar instability are spondylolisthesis, which is a translation of a single vertebra over another or more.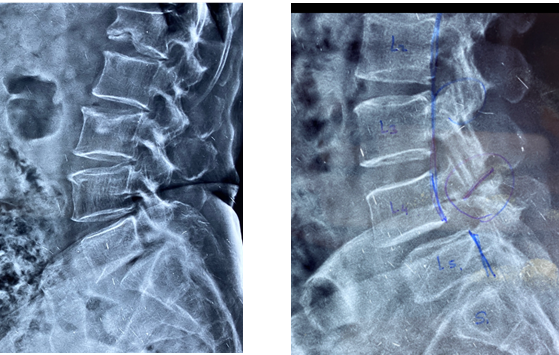 PATHOPHYSIOLOGY
The resulting imbalance can lead to an unstable spine and can considerably worsen the quality of life of the patients, preventing them from carrying out their daily activities.
The most frequent cause of spinal instability in adults is degeneration or early wear of the intervertebral disc. Patients may have a genetic predisposition to it and those whose bodies are subject to overexertion.
These degenerative problems are increased by poor posture, poor physical condition, muscular insufficiency, sedentary life, excess body weight, injury, etc.
People complain of Back pain that typically worsens after a short period of sitting, standing, bending, or turning on the bed.
Dynamic spinal instability may sometimes impinge spinal cord or nerves causing radicular leg pain or claudication.
INVESTIGATIONS
Dynamic X-rays are usually diagnostic of spinal instability.
MRI helps in assessing the intervertebral disc and nerves.
NON SURGICAL TREATMENT
Patients should avoid over-exertions or strain, prolonged standing, sitting, or lifting heavy objects.
Lumbar brace and physiotherapy may help in reducing symptoms
Surgery is indicated when conservative measures fail and the patient finds difficulty managing day-to-day activities.
SURGERY
Spinal fusion with bone graft either interbody or posterolateral is a standard surgical procedure.

Message
Patients with chronic or recurrent back pain should rule out spinal instability
Young patients with spinal instability should opt for surgery as they completely recover and can resume all their personal and professional activities
Dr. Niraj Kasat
Consultant Joint Replacement Surgeon