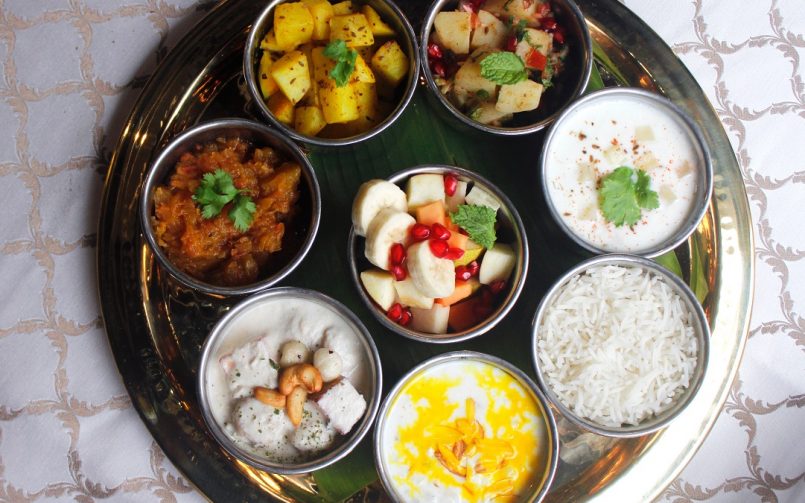 The auspicious festival of Navratri has started. Rich in colours, tradition, songs and dance, Navratri is also a time for us to relax, turn inwards and recharge ourselves with energy. Devotees dedicate these 9 days to worshipping the 9 different forms of Goddess Shakti. Fasting is an integral part of this auspicious occasion. Everyone has their own reasons for fasting. Though most of the people fast for religious reasons, many people fast during this time of the year to detoxify their bodies and cut back on unwanted calories. Which is a brilliant idea.
But the thing is that converting a Navratri feast into a detox diet takes a lot of effort. You can't say " I'm fasting and nosh on aloo sabzi and puri. Often, in the garb of fasting, we gorge on delicacies loaded with oil, salt, fats and carbs, and then we regret later when we put on oodles of weight, despite fasting for 9 days. The Navratri fast is said to be important because, at this time of the year, when the season changes, the body needs to get rid of toxins in order to increase the immunity levels. But fasting should be done in a manner you get the maximum physical and spiritual benefits. You can lose weight and detox to this Navratri. Not just that, but you will also feel elated and fresh after 9 days.
But how can you achieve this? Chief Dietician Swati Awasthi at Wockhardt Hospitals, Nagpur, shares a complete guide on how to fast during Navratri in a way that is conducive to your mind and body.
HEALTHY FASTING TIPS –
AVOID STARVING – while some people binge on snacks and fruits even when they are fasting, there are many people who eat nothing at all. The thumb rule is to avoid fasting for too long. If you want to detoxify, eat fresh fruits or nuts at intervals. Prolonged fasting can lead to a number of problems such as weakness, anaemia, fatigue and headaches.
STAY HYDRATED – Staying hydrated when you fast is extremely important. Water, low-fat milk, fruit juices, coconut water are some ways to stay hydrated and maintains an adequate level of fluids and salt in the body.
DON'T OVER INDULGE ON FRIED SNACKS – Fasting for many people includes binging on oily snacks throughout the day. By doing this, you are doing more harm than doing good to your body. Fried snacks are high in fats as well as salt, depending too much on these snacks negate your purpose of fasting.
MAINTAIN YOUR ENERGY LEVELS – Feeling low and experiencing a lack of energy is quite common during Navratri. To maintain your energy levels, you need to eat right. Include foods that are rich in proteins and carbs to maintain your energy levels.
EAT FOODS RICH IN FIBRE –  Include vegetables such as sweet potato, raw banana, bottle gourd and pumpkin in your menu to stay full and satiate your hunger. The reason is fibres take a long time to digest, thereby keeping you full for a longer period of time and also curb your hunger.
GET A BREAK FROM SUGAR – we tend to eat extra sugar during fasting. Refined sugars don't have any nutritive value and are stored as empty calories. Instead of refined sugars, try to use jaggery and honey to satisfy your cravings for sugar.
PLAN YOUR MEALS – A sudden change in your diet can have an impact on your body and mind, which makes it important to plan your meals. Ensure that you eat a major meal before sunset with alternate grains and minimum oil. Planning your meals and snacking healthy will maintain your energy levels and keep you healthy.
Source: https://thelivenagpur.com/2021/10/04/navratri-and-fasting-a-guide-book-on-dos-and-donts/