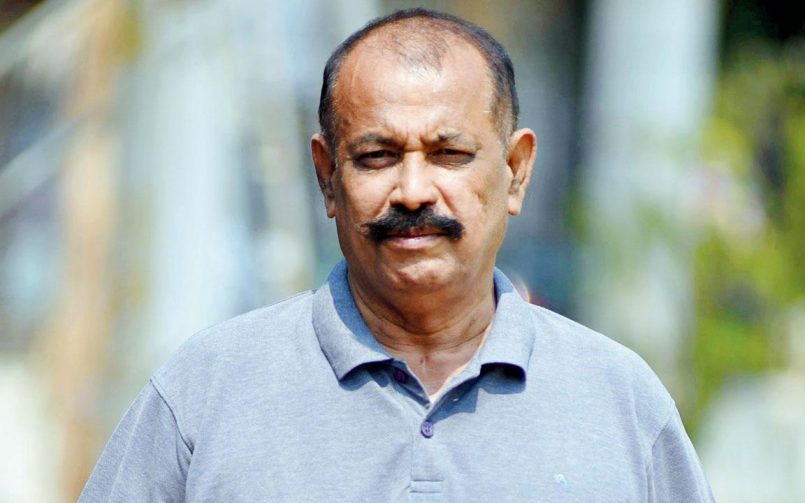 Cricket statistician and scorer Ramesh Parab opens up on his close match with COVID-19 and how he made it back to the cricketing greens
Mumbai Cricket Association's (MCA) scorer and statistician, Ramesh Parab, 65, has tracked many fighting innings from his scorer's seat at matches across all levels of the willow game. But in the COVID-19 pandemic, he played one himself, albeit on a different pitch – the hospital bed. He was even unconscious for 28 days, ravaged by COVID-19, Acute Respiratory Distress Syndrome (ARDS), and pneumonia last June and July.
But he fought his fears, conquered the pain, and emerged from a near-helpless situation to do what he loves doing, and does best – cricket scoring. Within six months of his recovery, Parab was back, scoring for the India versus Australia Brisbane Test from the Doordarshan studio in Delhi in January.
Parab was admitted to Wockhardt Hospital in Mumbai Central on June 12 and got discharged on July 17. When he returned to his home at Vishwas Niwas in Parel, he told mid-day that he would serve cricket and MCA till his last breath. When top-grade club cricket resumed in the city with the Police Shield last month, Parab made himself available to score.
"I don't know what happened in those first 28 days because I was unconscious and was being treated for the novel Coronavirus and other diseases. I am alive just because of Dr. Kedar Toraskar and his team (Dr. Ravindra Zore, Dr. Gurudas Pundpal, Dr. Mahesh Dhokre, and others.) Their treatment worked wonders for me. A special thank you to Dr. Kushesh Sharma," said Parab.
"Support and blessings from family members as well as friends in the cricketing circles were significant too. But, I think my willpower and strong desire to be back on cricket grounds played a huge role in my rebirth," remarked Parab. Parab, who has scored in 26 Tests, 100-plus ODIs, 80 IPL matches, and countless first-class games, wasn't just thinking of himself as he took his recovery steps.
"As soon as I returned to my senses after 28 days, a scene appeared in mind. It was about a young fast bowler traveling with his kit bag on a local train from Nalasopara to Churchgate for a selection trial. He had not been picked in the first trial but was giving himself another chance through sheer determination and passion. I felt something should be done for the boy, who was undertaking a long journey just to get picked, to make something of himself. I kept thinking about him, about his strong will, big heart. He had that, but what could I do for him occupied my mind space. Maybe this reflected my affection for the game. Probably this boy was me in a way, trying to make that second chance count," remarked Parab.
It's hard to find perspective when one is laid low by a monstrous illness. Parab decided on a path and paved it with positive layers. He opened up on the scary moments when he was on ventilator support for 15 days. "I can imagine today how tough it was for my family members (wife Aparna, daughter Neha, and son Rajdeep.) I later learned how they received updates on my condition from the doctor, who used to call my home twice a day. They were also told that I had only a 10 percent chance of recovering. Every call was received with trepidation; fear gripped them at the end of each conversation," revealed Parab.
Parab, whose last scoring assignment before the lockdown was the India Legends v Sri Lanka Legends T20 game in the Road Safety World Series at DY Patil Stadium in Navi Mumbai on March 10, 2020, recalled how mindful he was about the virus, "I started doing some exercises at home. Apart from that, I used to walk every day for an hour in the morning and two hours in the evening on the terrace of my building till the first week of June. But I too got infected."
'Forgot all health issues' 
He now celebrates the fact that those dark days are behind him. Apart from his family, doctors, and the hospital staff, he has many in the cricketing fraternity to thank for the hand they extended to be pulled out of the trenches. "I am grateful to cricket from all levels, Prof Ratnakar Shetty, Dr. PV Shetty, MCA secretary Sanjay Naik, treasurer Jagdish Achrekar, Apex Council member Nadim Memon, ex-managing committee member Ganesh Iyer, CEO CS Naik, other MCA officials, match referees, umpires, BCCI and MCA scorers, Veena Paralkar, Uday Gharat, Pritam Parab, Deepak Joshi, Kishor Lawne, Hemali Desai and Sangita Purohit, scorers from all over India, my students and of course friends from the media," acknowledged Parab.
We asked him about his 'international comeback' experience of scoring for Doordarshan during the Brisbane Test that India won by three wickets to clinch the Border-Gavaskar Trophy 2-1 in January. "It was very cold in Delhi and I had to wear three sweaters to do my job in the studio. If you are a die-hard cricket fan, you forget all your problems and health issues. And what a Test match it was! There was something new and thrilling happening every session. As a statistician, the enthralling Test allowed me to provide many interesting pieces of information to the listeners," he remarked.
Parab has battled great odds, dealt with pace, and bounce on the pitch of life. But now he is deservedly picking up the accolades. And he will carry the 'scoresheet' of his fantastic innings everywhere he goes.
Who is a scorer?
A scorer enters all runs scored, balls faced, and other details into a scorebook or computer.  In earlier days, a scorer used to accompany Indian cricket teams when they played abroad. Hence, the scorebook, which provides proof of a conducted match, and the scorer are a vital part of the game.
Source: https://www.mid-day.com/sports/cricket/article/doctors-had-given-me-just-10-per-cent-chance-of-recovery-mumbai-cricket-association-scorer-23163218