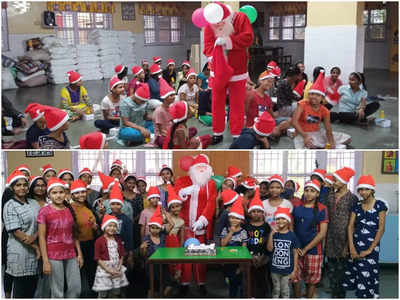 On the occasion of Christmas and New Year, a city hospital carried out various social welfare activities under its 'Be a Santa' initiative. The hospital donated money and groceries to an NGO, and a Christmas bash was organized for an orphanage.
Other fun-filled activities were also organized at the hospital to applaud the spirit of doctors, nurses, and other paramedical staff, keeping all the safety measures in check. The motto of this event was to ensure peace, good health, and to stand strong in the fight against Covid-19.
Dr. Sushil Kumar Head Medical Administration, Wockhardt Hospital, Mira Road, said, "Christmas and New Year bring along happiness with it. The hospital is committed to striving towards the welfare of society and conducts various initiatives, drives, and campaigns under its 'Be a Santa' initiative. Firstly, the hospital staff prepared different tasty delicacies at home as Fun Fiesta was organized wherein the amount collected and groceries were donated to an NGO. Secondly, a team consisting of a Santa Claus went to an orphanage, and celebrations were conducted there too." The dressed-up Santa distributed snack boxes, sweets, and gifts to everyone.
The celebration consisted of various games, clicking pictures, dancing, snacks, and cake cutting. A Santa Claus visited all the hospital staff members and patients and distributed sweets and gifts.
Dr. Saurabh Chordia Head- General Administration added, "A Christmas tree made out of the hand gloves of all the Covid warriors was placed in the lobby to pay a tribute to them. This event was conducted in order to create memories that everyone will cherish for a lifetime. Amid the pandemic, this celebration has given a ray of hope that 2022 will be good to each and every one. As the New Year is approaching, it will be essential to concentrate on health, follow Covid precautions, and pledge to stay disease-free throughout life. This celebration is carried out to make sure that the patients don't miss celebrating the festival as they are away from their family."
Some of the patients at the hospital also enjoyed the Christmas celebrations. One of the patients, Swapnali said, "This was a much-needed relief for all of us as patients need emotional support during the time of health crisis. We had a gala time by celebrating Christmas and New Year at the hospital. We interacted with the caring and dedicated staff of the hospital, clicked pictures, and sang carols too. The hospital was well-decorated, and the atmosphere was lovely. The event came as a big surprise for all of us. I thank the hospital for coming up with such a unique initiative. This was an unforgettable celebration at the hospital away from our loved ones."
Sister Lissymol Saji, Head Nursing, added, "The hospital gave us an opportunity to bring out a hidden chef in all of us through its 'Fun Fiesta' initiative. We all were excited to decorate the hospital. We danced, sang songs, played games, prepared mouth-watering snacks, and enjoyed each and every moment. These activities took away all the stress. The atmosphere was cheerful, and everyone forgot about their pain and suffering. Now, I am looking forward to celebrating Christmas and New Year in 2022 as well."