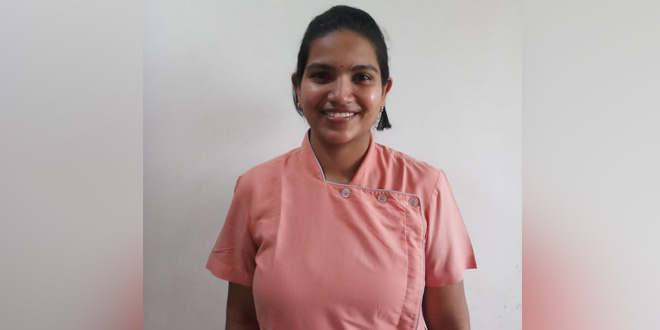 Chandini Mulukutla who works as Infection Prevention Control Nurse at Wockhardt Hospital in Mumbai, traveled from Vishakhapatnam during lockdown to join COVID duty post her maternity leave
33-year-old Chandini Mulukutla, Infection Prevention Control Nurse, was busy being a new mother when the outbreak of Coronavirus pandemic was reported in China on December 31, 2019. In March 2020, the pandemic was still at a nascent stage in India, and Ms Mulukutla along with her four-month-old baby and family went to her native place in Vishakhapatnam. Little did she knew that a nationwide lockdown will be imposed to contain the spread of the Coronavirus and she will not be able to return to Mumbai even after her maternity leave is over. But the desire to serve the nation and help fellow nurses and doctors to fight against COVID-19 pushed her to cross the borders and resume her duty.
Recalling the events and how she managed to come to Mumbai during a lockdown, Ms Mulukutla told NDTV,
"I gave birth on November 7, 2019, and I was to join duty on May 6 but due to the lockdown, I was stuck in Vishakhapatnam. I wanted to come back to Mumbai anyhow but I had two challenges in front of me; firstly, there was a lockdown and secondly, my family was against me being on COVID-19 duty especially when I am breastfeeding my infant. But I somehow convinced my family."
Ms Mulukutla who has been working at Wockhardt Hospital at Mira Road in Mumbai for 6 years submitted a letter from her hospital to the local police commissioner and asked for permission to travel to Mumbai for work. Along with her 6-month-old newborn, 7-year-old son, husband and mother-in-law who is a cancer patient, Ms Mulukutla travelled to Mumbai by road.
Talking about her journey, Ms Mulukutla said,
"It took us one and a half days and we had to cross nearly 50 check posts and at almost every check post we would show our passes to prove that I am travelling for work."
Following this, Ms Mulukutla was under home quarantine for 14 days and subsequently joined work. Explaining her role during COVID-19, she said,
"As an infection prevention control nurse, my job is to educate COVID warriors about infection control protocols including hand hygiene, social distancing, and mask protocol. I train doctors, nurses, and other technicians on how to wear and take off personal protective equipment (PPE). I also take rounds of the non-COVID ward and conduct audits of healthcare personnel on whether they are following precautionary measures like washing their hands before investigating patients."
Ms Mulukutla said that the fear of contracting COVID-19 and passing it to her family exists. Both her children and mother-in-law are a part of the high-risk group that is more vulnerable to catching COVID-19 and despite that, she has taken the risk of being a COVID warrior. Talking about the precautions she herself takes to protect her and her family from COVID-19, she said,
"I have made myself mentally strong to fight COVID-19 and overcome the situation in the safest way possible. At work, we follow all precautions. As soon as I reach home, I take a proper bath, wash all my clothes, and sanitize all my belongings including mobile phone. After this only, I meet my children and feed the baby. Since we live in a 1 BHK, I can't isolate myself in a separate room also my children are young so they need me."
While Ms. Mulukutla works throughout the week (Monday to Saturday) from morning to evening, her 60-year-old mother-in-law takes care of her children. Ms. Mulukutla feels blessed to have a family that supports her during trying times and for the fact that everyone is safe as of now. However, she has already told her mother-in-law what needs to do if she happens to be in quarantine.
"I have told my mother that she will have to resort to formula feeding or the regular packed milk if anything happens to me."
Now, Ms. Mulukutla plans to take the next step by starting to take rounds of COVID ward. She says it's a blessing to serve people during a pandemic and she wants to continue working come what may.