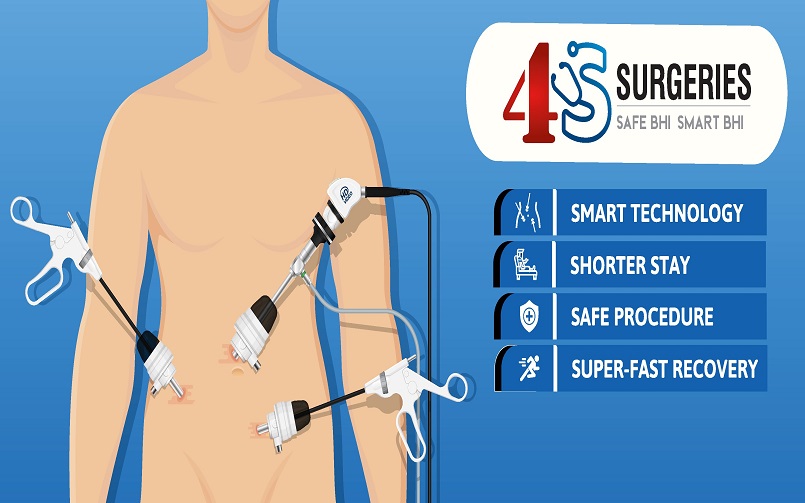 When the word Surgery is heard, big incisions, stitches, bleeding, excruciating pain, longer recovery time, and longer hospital stay, all these things have made spaces in the minds of the patients till now. But in this new era, based on the technological advances in the medical field and the skills of the surgeons, Wockhardt Hospital Nashik has worked to break this equation by introducing a new reliable technique of surgery called "4S Surgeries".
With the introduction of "4S surgeries", now the surgeries for hernia, gallbladder, and appendix became more easier and effective. State-of-the-art technology is used in these surgeries, which includes surgery through a Laparoscope. Equally important is the skill of the Surgeon performing the surgery. This surgery, performed through a laparoscope is done through 3 or 4 tiny holes. As a result, there is no need for large incisions, no stitches, no more bleeding happens, no pain, no scar remains after surgery because there is no incision, and the patient's recovery (rehabilitation) becomes faster after the surgery. The patient is fed and made to walk on the same day within 24 hours after surgery, and based on this rapid recovery, they are happily discharged home within 24 hours.
"4S surgeries" are intended towards reducing the hospital stay of patients and improving the quality of healthcare. Apart from this, strict protocols are followed during and after the surgery, and priority is given to faster recovery of the patients and maintaining the highest quality standards in healthcare services which leads to happy and satisfied patients. For surgery, now no need to panic at all, as advancements in science have made it easier to perform sutureless surgeries of hernia, gallbladder, and appendix with a reliable technique called "4S surgeries". This allows patients to resume their routine soon after the surgery. In the end, for the benefit of the patients, I would like to say that if you need to undergo any surgery for the digestive system including hernia, gallbladder, and appendix, you must consider "4S surgeries" at Wockhardt Hospitals, Nashik.
Dr. Sandeep Sabnis
MS, DNB (Surgical Gastroenterology)
Consultant – MIS, Surgical Oncology, Surgical Gastroenterology, HPB and Bariatric Surgery
Wockhardt Hospitals, Nashik